Blue Baron Compact 45
Coming Soon!............. The Blue Baron Compact 45 Unstoppable Cleaning Power!
And....... A Compact Skinnier Option at a Lesser Price!
Straight from the Factory and delivered!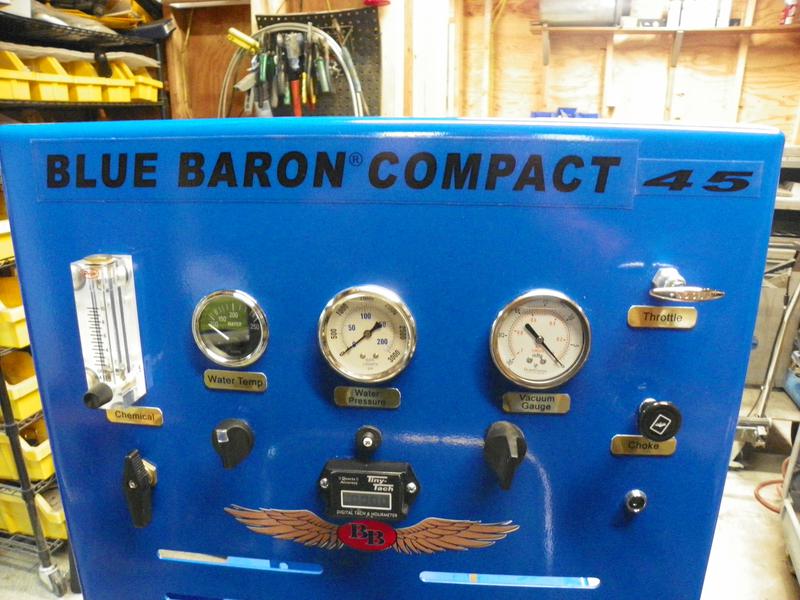 Only $14,495 add shipping
Call us today at: (727) 505-2989 ask for Pete
Features:
New ADDITIONS: * Panel Mounted Temperature Gauge
* Tiny Tach / Hour Meter
* Dial Controlled Thermostat
We build the Hottest Heat Exchangers in
the Industry. Our Patented Design
Delivers Quick Stable Heat you can
depend on throughout all your Carpet,
Tile and Surface Restoration jobs. Our
Full Line of High Quality All Stainless
Heat Exchangers Backed by a 1 year
Manufacturer's Warranty.
Unique Body Style Frame
Precision laser cut frame and vacuum tank construction!
PLUS Lifetime parts warranty on both the tank and frame!
Other factories only offer 2 years max.
Receive Blue Baron true piece of mind with the industries best truckmount value coupled with the best warranty.
Optional on-site extended warranty also available.
20" Wide X 38" High X 40" Depth
440 lbs Powder Coated Frame


27 HP Kohler Engine
Factory Installed
Kohler 27 HP Command Pro Engine CH752-3100
Factory Installed





4MR Sutorbilt Blower (Size 45)




Gardner Denver Sutorbilt Legend PD 3MR Truck Mount Vacuum 45 Blower



SUPER QUITE Superior Acoustics Dampening Silencer
2500 Psi 3.5 gpm AR Pump (Up to 2000+ Working Pressure)
Famous Patented Axis Point Heat Exchanger System
200+ Degrees with Automatic Heat Control
Last Step ChemicaI Injection
Factory Installed
General Pump 100906 Chemical Pulse Pump Used on Truck Mounts



Factory Installed
Dwyer Visiflow Meter H325 with knob (18-808522) Chenical Adjuster
Factory Installed
Chemical 3 way Way Vlave for Metering / Prime of your Chemical Solution
Water Box
Factory Installed

Truck Mount Waste Tank Filter 3 inch FPT X 100 Mesh X 8.5 inches OVL (6.5 inches Screened Stainless Steel E131-Short Sze

3" pipe connection offer 100% more air flow than the industry normal 2 inch and 2.5 inch filters of other brands.
​
Factory Installed
4000 psi 8 GPM Hand Adjusted Unlooder Valve
Allows you to dial in exact pressure for your surface type:
400 psi - Upholstery cleaning, 500 psi - Carpet Cleaning, 2000 plus psi (Working Pressure- Tile Cleaning
| | |
| --- | --- |
| Factory Installed 3000 psi Pressure Gauge | |
Blue Baron 100 Gallon Vacuum Recovery Marine Aluminum Waste Tank Powder Coated with Pump-Out Ports
Factory Supplied Lifetime Warranty!